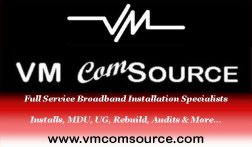 Established in 1995 in Northampton PA as a full-service broadband installations specialist, VM ComSource is not only committed to their clients, but the client's customers as well.
VM ComSource's managers and officers each have a minimum of 15 years of cable industry experience.
VM ComSource has been a member of the SCTE since 1995.